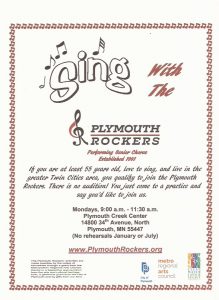 The Plymouth Rockers Senior Chorus rehearses on Mondays, 9 AM to 11:30 AM at the Plymouth Creek Center, 14800 34th Avenue N., Plymouth, MN.  We meet year round taking off the months of January and July.  Any and all singers 55 years of age and older who love to sing, enjoy performing and consider the process of music making a lifelong endeavor are welcome to join the chorus.
Reading music is not a prerequisite for participation in the chorus, but it certainly does help! Members are expected to attend all possible rehearsals and performances. Snowbirds are welcome.
For more information about becoming a Plymouth Rocker, e-mail Eileen Bengry at ebengry1@gmail.com.